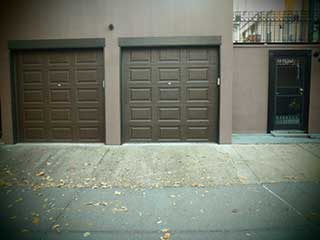 Getting an insulated garage door can offer you a lot of benefits. You'll be able to save money on your electricity bill because an insulated door will help you maintain the indoor temperature of your garage, and your HVAC unit won't have to work harder to compensate for heat transfer.
What Are My Options?
There are two methods of insulating garage doors. The two-layer structure is available with steel and some vinyl models. It involves a single-layer panel and a layer of insulating material which comes with a protective backing, usually made from thin vinyl. The only insulating material available with the two-layer structure is polystyrene. It is also the only insulation option for wooden garage doors given the specifics of their build. It comes in the form of rigid and light panels. It doesn't add much to the weight of the door and had good durability.
What's the Second Insulation Method?
The second option is a three-layer structure. It involves two layers of metal or wood and a layer of insulating material between them. This second option gives you higher R-value.
Are There Any Disadvantages?
The second insulation method also results in greater weight, especially if cladding and overlay are added for aesthetic purposes. This means that you may have to upgrade to either a bigger torsion spring or more smaller ones. You may also have to get a more powerful opener in order to be able to adequately handle the added weight. Research this possibility in advance to plan and budget your project for new garage door installation, accordingly.
Polyurethane vs Polystyrene
If you consider a steel door with a three-layer insulation structure, you can choose to have the hollow space between the two external layers filled with polyurethane foam. This material is better at filling gaps compared to polystyrene and has higher R-value for the same thickness. It has high resistance to moisture, mold, and fire. These are all superb advantages, but they come at a higher price. If you consider the option of opener replacement as well, you should make sure it doesn't get you off the budget.
Contact our experts at Garage Door Repair Temecula to have our professionals help you find the best insulation method for your door.