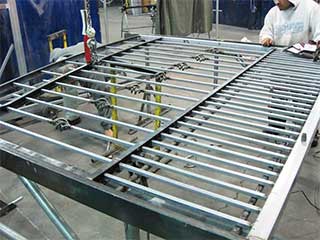 Our experts at Garage Door Repair Temecula deal in more than just garage doors. We can help you with all sorts of gate related issues as well. We are a team of expert technicians that pride themselves in providing high quality and prompt repair services for local residents. We are committed to providing the most reliable service at an affordable rate.
Your Satisfaction is Our Goal
We believe that gates (and garage doors) are an important part of any modern home, as they contribute to the safety and security your family. That's why it's so important to make sure that any unexpected problem gets dealt with as quickly as possible. Whether it's an opener malfunction or an intercom related issue, we can see to it that your gate is fully functional again as quickly as possible.
High-quality Repair Services
Gate Repair ServicesWe have a team of highly trained and professional service technicians who are waiting to help you with all sorts of problems with your gates. Our experts are trained in the latest repair methods used in the industry to ensure that you get the best service possible every time you contact us for assistance.
New Gate Installation
We can install gates of every make and model. We work with the all the top industry brands as well as some of the lesser-known ones. If you're looking to get a new and advanced gate system, our experts can help you choose one that offers the latest safety and security features, install it for you in a timely fashion.
Professional Replacement Services
If any component proves to be beyond repair, we can replace it with one that is new and improved. This will not require any additional time, as our technicians always come equipped with all the necessary replacement parts, and can perform the procedure on the spot.
Installing Intercom Systems
Our technicians can help you choose the perfect intercom system for your home. It's always a good idea to get one installed, as it will allow you to speak, or even see, any invited, or uninvited visitors and decide if you'd like let them enter or not.
Call Us Today
Whatever issue you're experiencing, or whatever type of new gate system you'd like to get installed, our experts at Garage Door Repair Temecula are the ones to call.
Let our team take care of it for you!