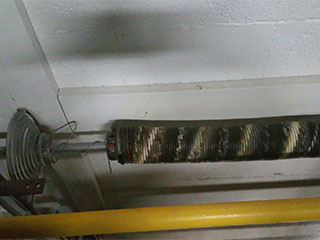 Most people don't realize that their garage door springs need to be properly maintained and even replaced if considerably worn. Unfortunately, if you do not book an expert to perform regular maintenance on your garage door, you may not even know that you have problems with your springs. Here are a few common issues we can take care of.
Rusty Springs?
Over time your garage door springs may become rusty, this causes more problems than simply being unsightly. Rust can slowly weaken these components and cause them to break. We can replace your springs with corrosion resistant ones that will be able to last for much longer.
Springs Need Lubrication
If you've noticed that your door doesn't run smoothly and makes loud noises, you may need to have your springs lubricated. Luckily, we can easily and quickly take care of this for you, and we'll ensure that your springs last as long as possible.
They Have Already Broken
Broken springs can do more than stop your door from moving. If you try to operate your door during that scenario, the panels can actually collapse, which is extremely dangerous for any person or property nearby. If you can see your garage door springs are starting to wear, it's best to call us before they suddenly break. Don't risk the potential injuries. Get our experts to safely replace the damaged components for you.
Call Us Today
Our experts at Garage Door Repair Temecula we will work hard to ensure that your springs are in the best possible condition and that you are not in any danger. If you're in need of our maintenance services, then it's time to give us a call. We guarantee we'll take care of any problems you have and keep every part of your door in a great working condition.
In addition, we offer:
Roll up Garage Door Maintenance
Opener Sensor Replacement
Extension Spring Adjustment
Garage Door Off Track Repair