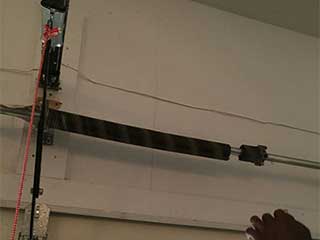 You most certainly know the recipe for the smooth operation of your garage door system - lubrication. The ideal product is light and not sticky. It should be able to withstand temperature extremes too. For easy application, you should get lubricant in spray form.
Before You Start
Before you begin with the lubrication, you should confirm that the components are perfectly clean. Check the steel rollers, in particular. If they have dirt, grease and debris stuck around them, use mild solvent or brake cleaner to prepare them for lubrication.
Now You Can Proceed
You should have a clear idea of all components and sections of the door system which have to be lubricated. The list includes torsion springs (not extension ones), steel rollers (not nylon coated ones), hinges and the sections where there is friction between the moving opener trolley and the stationary rail. If you have a chain or screw drive opener, you will need to lubricate the metal chain or rod as well.
Can I use Any Type of Lubricant?
Keep in mind that manufacturers often have specific requirements for the lubricant which should be used for these components. Just to be on the safe side, you should consult your owner's manual before buying one. Applying spray lubricant is fairly easy. You just need to ensure that the layer is thin, even and covers the entire surface area of the hardware part.
Make The Most Out of Your Time
Seeing as you're already going over a lot of different parts of your garage door system, you might as well give everything a proper examination while you're at it. This can help you catch any underlying issues before they become large-scale problems. You'll be able to avoid and even prevent a lot of potential problems by doing this.
Leave it to The Professionals
Keep in mind that you should not attempt to repair anything by yourself. A lot of garage door components can be extremely dangerous to handle without the proper tools or the necessary training, and you could be worsening the situation, and potentially even putting yourself at risk. Don't worry, if you do find something wrong with any of the system's parts, simply give our experts at Garage Door Repair Temecula a call and we'll handle it in no time at all.